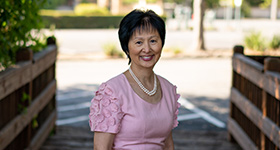 Yao-Eng Chang-Yue
Deaconess, Communion, Women's Ministry
Yao-Eng was raised in a Christian home. Her maternal grandfather was a pastor in Foochow, China; however, she did not accept Christ as her personal savior until 2004. She was baptized and joined Bridges in 2005 when it was called First Baptist Church of Los Altos.
Yao-Eng is married to John and has four adult children (three are married) and five grandchildren. Yao-Eng immigrated to U.S. in 1968 from Burma. In her leisure, she enjoys serving the Lord in various capacities. Yao-Eng has a passion for evangelism and reaching out to people who do not yet know Christ. She enjoys spending time with girlfriends. She also loves traveling, especially to visit her grandchildren. Yao-Eng's other interests are: cruising, exercising, hiking, playing board games, reading, singing, and walking around the neighborhood with her husband while meeting and talking to neighbors.
Yao-Eng has worked professionally at various companies for 33 years. Prior to retirement she worked at San Jose State University Research Foundation as a Sponsored Program Manager. Yao-Eng has been attending Bible Study Fellowship since 2009 and had served as Host and Group Leader; led DivorceCare – group as well as one-on-one; served in AWANA for 14 years; BCC Women's Ministry since 2010; the choir; Deaconess since 2011 in the capacity of Caring/Visits, Memorials, Communion and Women's Ministry liaison; and built homes in Mexico with Club Dust on a mission trip.
Yao-Eng's life verse is God's commandment in Matthew 22:37; Mark 12:30; Deuteronomy 6:5, 10:12, 30:6; and 2 Kings 23:25, where she is to fear the LORD her God, to walk in obedience to Him, and to "Love the LORD your God with all your heart and with all your soul and with all your mind and with all your strength."
Yao-Eng's testimonial verse is Psalm 119:67 – "Before I was afflicted I went astray, but now I keep Your Word.