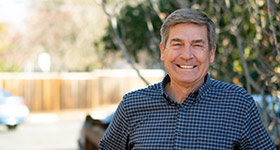 Brad Cole
Elder
Brad came to know Jesus as his Savior at the age of 4 and was baptized at 14 in the church where his dad was the pastor. He met his wife, Christy, at Biola University, where he graduated with a BS in Business/Accounting. After getting married at Bridges in 1978, Brad went on to get his MBA at SJSU. Together they raised their two, now adult, daughters at this church while serving in a variety of ministries.
Brad has been a Life Group leader, Deacon, Chair of the Altos Foundation, and Elder. Together, he and Christy sang in the Bridges choir for 30 years, served as high school Survival Camp staff, high school staff, co-led and hosted our Young Adults Ministry, and have spent many years teaching elementary Sunday School, especially 4th and 5th grades.
Retired from full executive management, Brad now serves on a number of healthcare technology and services boards, both public and private. He also serves on the Board of Trustees at Biola University.
Brad is an avid Golden State Warriors fan, in the good times and the bad! He enjoys spending time with his three grandkids and traveling, making memories with his family and friends.
To contact Brad please email Liliya in the Bridges office at liliya@bridges.church.