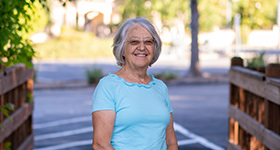 Tessa Ennals
Deaconess Vice Chair, Senior Care
Tessa has attended Bridges Community Church since 1978. During this time she has served as a children's Sunday School teacher, a women's Bible study leader and coordinator, and a Stephen Minister. She has been a member of the Deaconess Board for the past several years.
Tessa grew up in England where she met her husband, John, at the University of Cambridge. They were married in 1965 and came to the United States in 1967. They have two married daughters and five grandchildren ranging in age from 4 to 19.
Before retiring, Tessa worked as a Research Chemist in the food and pharmaceutical industries, as a science educator, and most recently as a technical editor for a Chemical Engineering company. Currently she enjoys gardening, traveling, babysitting, attending symphony concerts and operas, hiking, and skiing.