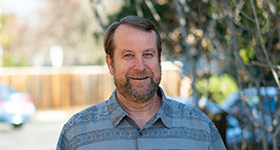 Todd Kjos
Elder Chairman
Todd and his wife, Anna, both grew up in the area and met in the youth ministry at Peninsula Bible Church in Palo Alto. They started attending BCC in 2006 when it was called First Baptist Church of Los Altos, and they became members of BCC in 2012. Todd has served in various Children's Ministry roles at BCC including AWANA council-time leader and Sunday school teacher for elementary and middle school students. He has been active in leadership of the Deeper Roots Life Group since it started in 2013.
He earned degrees in Engineering Physics and Computer Engineering, and has been leading software projects at various well known companies in the valley.
Todd and Anna have three children: Noah, Ava, and Micah. He enjoys hiking, traveling, exotic foods, and sports.
To contact Todd please email Liliya in the Bridges office at liliya@bridges.church.